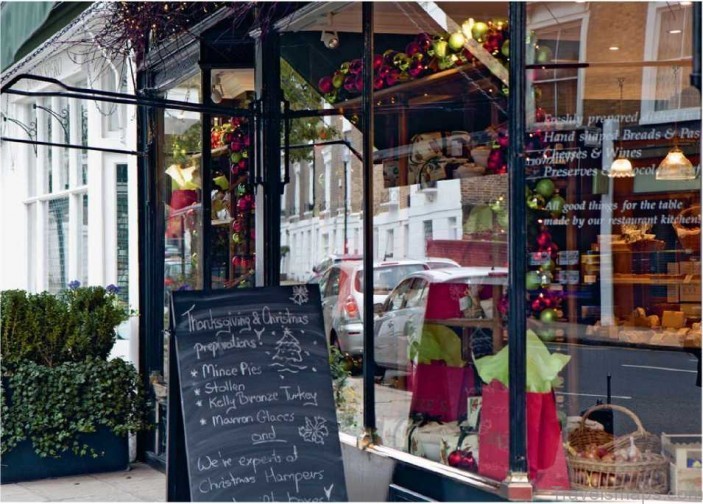 Sally Clarke Shop
1 Campden Street, W8 7EP 020 7229 2190
www.sallyclarke.com/shop
Open Monday-Friday 8am-8pm, Saturday 8am-5pm, Sunday
10am—4 pm
Tube Notting Hill Gate Bus 27, 28, 31, 52, 70, 94, 148, 328, 452 There is a small step at the entrance to the shop
Sally Clarke's reputation as one of Britain's top bakers is well deserved and this small shop offers food lovers a chance to buy a jar of her dark Seville orange marmalade to spread on her slowly fermented sourdough loaves. Only the highest quality ingredients are used to make the pickles, jams and jellies that sit on the shelves in this pretty store, which stocks much more than teatime treats and breakfast provisions. For lunch, pick up a tomato and mozzarella pizza made in their own pastry kitchen and a lemon tart and a packet of Assam tea for later on that afternoon.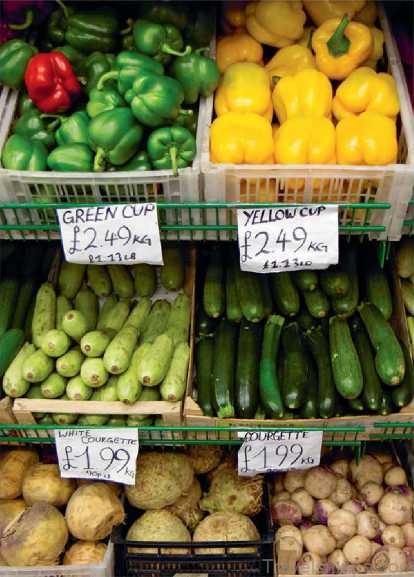 FAM Fruit and Vegetable Market
150 Fortess Road, Kentish Town NW5 2HP S 020 7267 2046
Open Daily 7am-10pm
Tube Tufnell Park Bus 134, 214, 390, C2, C11
The shop is weelchair accessible
Whether you are looking for ripe tomatoes and red onions for a ragu or a cos lettuce and radishes for a summer salad, FAM have every vegetable you would ever need. The bunches of verdant spinach-like saag, dill, mint and parsley look so fresh, it feels as if you have picked them yourself. As well as Cox apples, physalis, prickly pears, giant quince, star fruit and lychees, this is also a great place to buy balsamic vinegar, olive oil, rosewater and other bottled produce. The food is very reasonably priced, even fruits that have travelled far, such as pomegranates and persimmons.
Pubs & bars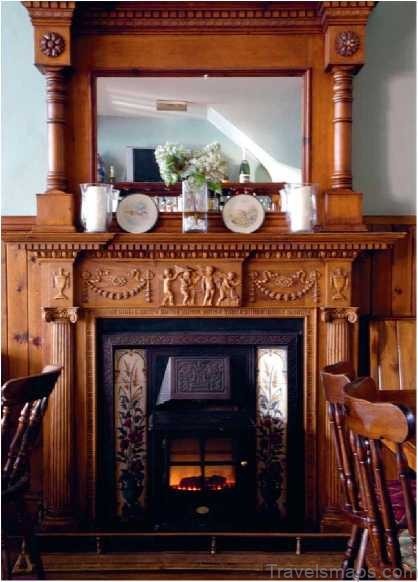 The Charles Dickens
160 Union Street, Southwark SE1 OLH fir 020 7401 3744
www.thecharlesdickens.co.uk
Open Monday-Saturday 11am-7pm, Sunday 12-6 pm
Tube Borough, Southwark Train Waterloo East Bus 35, 40, 45, 63, 100, 444
There is a 4cm step at the front door and ground-floor toilets
Named after the prolific author and public speaker, this nineteenthcentury public house has a few of Dickens's novels for loan on the bookshelf in the back room. With its carved wooden fireplace and caricatures of the writer on the wall, this capacious pub has the feel of a large, literary living room. Real ales can be found in abundance here, from the Deer Stalker Ramsbury to the Ruby Mild Rudgate and Young's London Gold. Some drinkers might like a glass or two of the Traditional Somerset Wilkins Farmhouse Cider – at 6%, this is a strong tipple. The food menu is pretty good here, too – from roast chicken and chips to carrot and coriander soup, most tastes are catered for.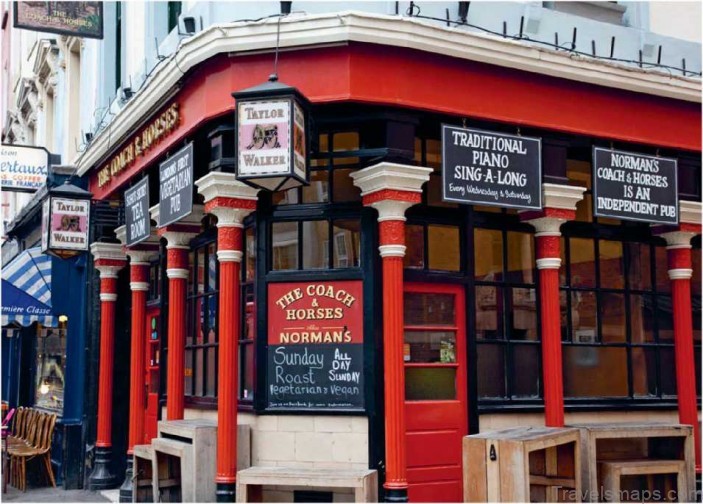 The Coach & Horses
29 Greek Street, Soho W1T 5DH ® 020 7437 5920 www.thecoachandhorsessoho.co.uk
Open Monday-Thursday 11am-11pm, Friday and Saturday Ham- 11.30pm, Sunday 12-10.30pm Tube Leicester Square Bus 19, 14, 24, 29, 38, 176
The pub is wheelchair accessible
Renowned for being London's first vegetarian pub, this Soho landmark is an excellent place to enjoy gourmet food in an informal atmosphere. The pub also has a notorious history – Peter O'Toole, Francis Bacon, the columnist Jeffrey Bernard, Private Eye magazine journalists and louche Soho personalities all came here to argue over the rambunctious politics of the day. Nowadays, it tends to be more sedate, especially on a Sunday lunchtime. Their nut roast is a tasty alternative to the meat and two veg offerings elsewhere, and their weekday menu of beetroot ravioli and apple and plum crumble are also much appreciated. Piano singalongs take place on Wednesday and Saturday – the only time you will hear music in this well-loved pub.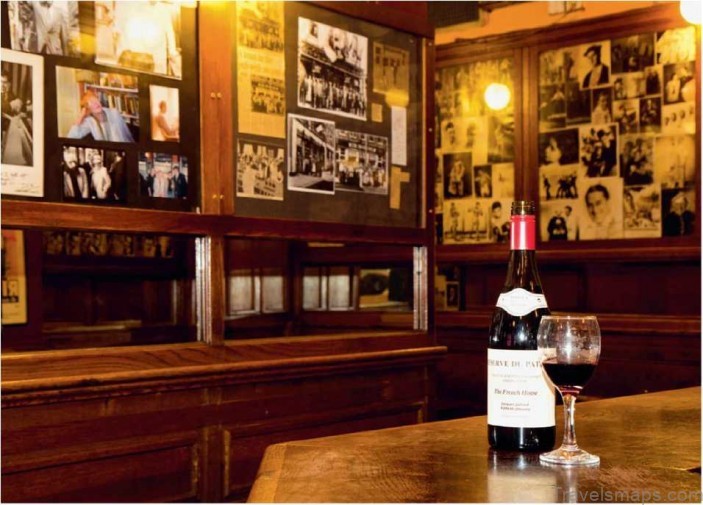 The French House
49 Dean Street, Soho W1D 5BG s 020 7494 3111 www.frenchhousesoho.com
Open Monday-Saturday 12-11pm, Sunday 12-10.30pm, Christmas Day to 2pm, New Year's Eve to 9pm, food served Monday-Friday 12-4pm
Tube Leicester Square, Piccadilly Circus, Tottenham Court Road Bus 14, 19, 24, 29, 38, 176
The pub is wheelchair accessible but not very large
The French House opened in 1914, and was like a second home to anyone fleeing France during the Second World War. The pub is also famous for being a meeting place for actors and the walls are covered with photos of former guests. The cosy atmosphere is partly due to the fact that the pub is quite small, but also because regulars come here often to meet their compatriots and enjoy a pint of Old Speckled Hen. In keeping with the Gallic tradition of drinking smaller glasses of beer, the pub serves only half-pints. During the week, the French House serves an excellent three-course lunch, and on special occasions a pianist plays in this historic bar.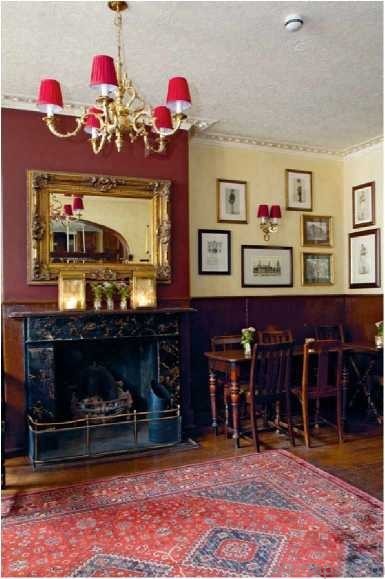 The Star Tavern
6 Belgrave Mews, SW1X 8HT S 020 7235 3019
www,star-tavern-belqravia.co.uk
Open Monday-Friday 11am-11pm, Saturday 12-11pm, Sunday 1210.30pm, closed New Year's Day
Tube Knightsbridge, Hyde Park Corner
Bus 14, 22, 38, 73, 137, 360, 452, C1
There is a small step at the entrance
With fresh flowers on the tables, excellent home-cooked food and seasonal ales, this popular, award-winning Fuller's pub is much loved by locals. The only remaining pub in Mayfair with a real coal fire, it's a great place to retire to on a winter's evening.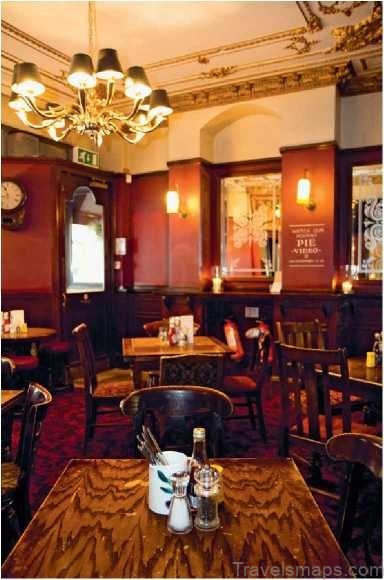 The Windmill
6-8 Mill Street, Mayfair, W1S 2AZ S 020 7491 8050
www.windmillmayfair.co.uk
Open Monday-Friday 11am-11pm, Saturday 12-4.30pm
Tube Oxford Circus Bus 6, 10, 23, 55, 73, 88, 98, 139, 159, 453, C2 The pub is on the ground floor but has no accessible toilets
The Windmill is famous for its award-winning pies, which include smoked haddock and crayfish as well as the traditional steak and kidney. With its polished brass fittings and gold and white ceiling, this is a comfortable place to have a lunchtime pint.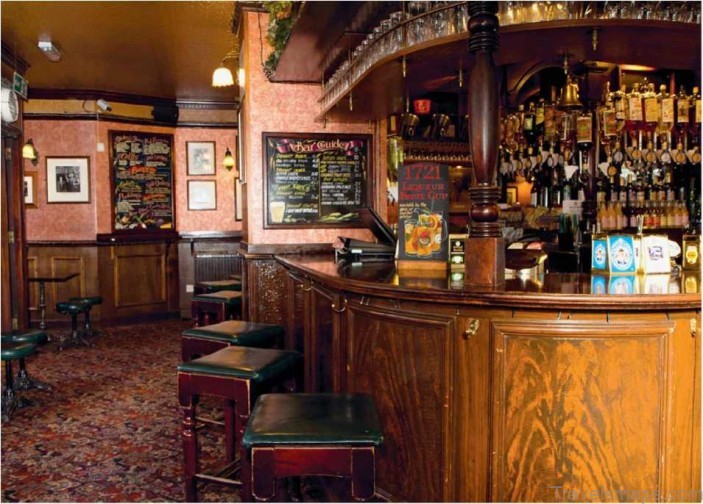 The Fitzroy Tavern
16a Charlotte Street, Fitzrovia W1T 2LY ® 020 7580 3714 Open Monday-Saturday 11am-11pm, Sunday 12-10.30pm Tube Goodge Street, Warren Street Bus 10, 14, 24, 29, 73, 134, 390
The ground floor of the pub is wheelchair accessible but the toilets are down a flight of stairs
Renowned for having some of the cheapest pints in central London, this traditional nineteenth-century public house is a great place to meet up with friends. The large bar on the ground floor is surrounded by typical wooden pub tables and chairs, while the small basement room is much more intimate. Eric Blair, better known as George Orwell, used to come to the Fitzroy Tavern for a drink while he was writing his articles and novels, and the pub still attracts a literary clientele. On Wednesday it hosts the very lively Pear Shaped Comedy Club, but every other night of the week this is a sedate place to enjoy a real ale or their summer fruit cup.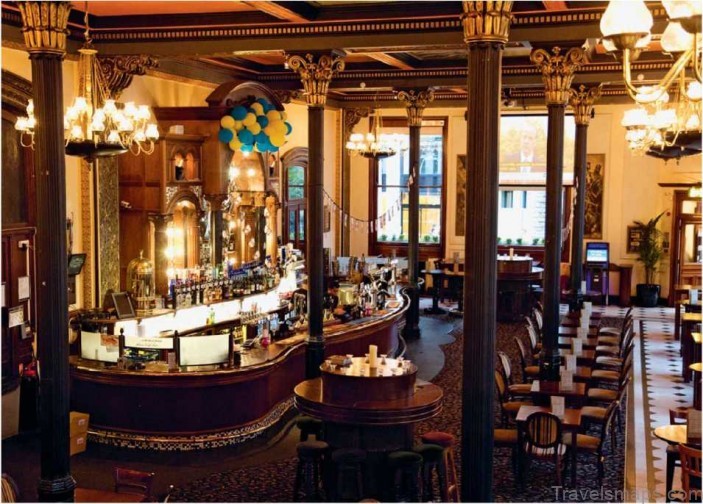 The Knights Templar
95 Chancery Lane, WC2A 1DT ® 020 7831 2660
www.idwethersDoon.co.uk/home/Dubs/the-kniqhts-temDlar-chancery- lane
Open Monday-Wednesday 8am-11pm, Thursday and Friday Sam- Il.30pm, Saturday 11am-5pm, closed on Sunday except for private events
Tube Chancery Lane Bus 1, 11, 15, 63, 76, 341, 521
The pub is fully wheelchair accessible
Built as the Grand Union bank in the 1840s, the Knights Templar was transformed into a public house a hundred and fifty years later. This listed building feels quite spectacular with its beautiful red-painted ceiling, gold capitals at the top of the columns and tulip-shaped ceiling lights. The menu covers the entire day, from a large cooked breakfast to a club sandwich for lunch and a curry after work. With six to eight varieties on tap and a beer festival in the autumn, this is a great pub to try out an American Bitter, an Abbott IPA or one of their guest ales. Although there is a television screen on during the day, it is turned to silent, with only subtitles offering the latest news.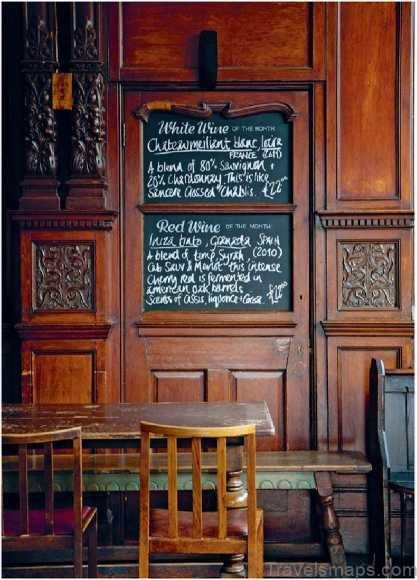 The Junction Tavern
101 Fortess Road, NW5 1AG S 020 7485 9400 www.iunctiontavern.co.uk
Open Monday-Thursday 5-11pm, Friday and Saturday 12pm-12am, Sunday 12-11pm, New Year's Day, closed Christmas Eve and Christmas Day
Tube Tufnell Park Bus 134, 214, 390, C2, C11
The gastro pub is wheelchair accessible but the toilet door is very narrow
This impressive Victorian pub has been transformed into one of North London's most desirable restaurants. With its simple school chairs, bare tables, wood-panelled walls, plaster cornices, white candles and red plush bar stools the look is a mixture of informal bistro and traditional English public house. Beers on tap include Betty Stogs Queen of Cornish ale, San Miguel and Adnams Lighthouse, while the wine list includes cabernet sauvignon and chenin blanc. The food on the menu is typically English, so on Sunday you can expect roast beef and Yorkshire pudding, with lighter meals during the week. The rear conservatory and garden are also pleasant places to sit, with a few simple wooden benches and Russian vines climbing up the walls.