99 flakes at the ready – these new UK boltholes will take you back to childhood holidays… the luxe way
SURELY THERE CAN BE NOTHING MORE NOVEL
Than waking up to an uninterrupted view of the sea through a large porthole? Well, at the new beach huts built into the cliff face at popular pub-with-rooms The Cary Arms, this is exactly what you can expect. But these aren't the tiny, rustic shacks you huddled into when you were kids – these are souped-up, luxe boltholes made just for two.
The Cary Arms, Babbacombe Bay, Torquay, Devon Photo Gallery
The exterior is delightfully trad; white clapboard wood with poster- paint blue roofs and that porthole, plus retractable glass doors that reveal wooden decking jutting out onto the rocks (you can practically taste the salt spray from the water), with two deck chairs and a bottle of Champagne in a silver bucket. Inside, there's a Tango-orange corner sofa that points towards a TV loaded with Netflix (yessss) and a fire (the faux kind, though; turn on the sound for the soothing crackle-and-pop noises). Plus, there's a small Smeg fridge loaded with snacks and sloe gin. But don't mistake these four boltholes to be self-catering.
There's no kitchen; it's essentially one room with a small bathroom and a mezzanine level housing a squishy double bed covered in woollen blankets and super-soft cushions. Meals are served at The Cary Arms' awesome restaurant – people travel the county just to come for lunch here. The seafood is top notch: go for the Devon Crab & Crayfish Cocktail, followed by half a Lyme Bay lobster, perfectly cooked in garlic butter – it's a winning combo. How to spend a day here? Get to breakfast for a full English (or have a croissant-filled hamper delivered silently to your hut at 8am), grab a walking map and stomp along those cliffs, then come back and dare each other to take a dip in the freezing sea before racing to the just-opened spa that sits above the huts. There's something seriously magical about watching the sun go down over a chilly ocean from a bath-warm hydrotherapy pool…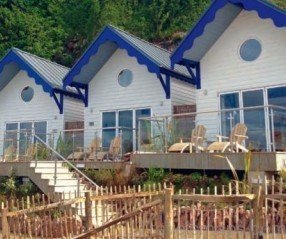 RETRO-MOON MOMENT
Make a late-night dinner visit to Hanbury's fish and chip shop (hanburys.net) one evening – it's got to be the best in Torquay. It will be all-too tempting to eat in the restaurant attached to it, but don't. Get a takeaway wrapped in newspaper and walk the two minutes to the old-school Torquay promenade with its Narnia-style street lamps. Even at 10pm in the depths of winter, it really ramps up the romance factor (trust us, we tried it). BOOK IT Beach huts from £375 per night, caryarms.co.uk
The Bower Treehouse, Somerset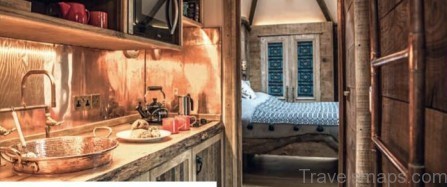 IF YOU FANCY SEEKING A LITTLE REFUGE IN NATURE
And recharging your batteries, this place is just the ticket. Five miles of twisty lanes off the A303, followed by a very bumpy track, are your first rural taster, but the real adventure begins when you arrive at this woodland property to find a small box containing a key and two lanterns. This grand design is a true labour of love for owners Lulu and Simon, who are happy to leave you to it with just a clutch of wild pheasants and bluebells for company. As all tree houses should be, this one is perched so high in the branches that it's hard to spot at first, and the interior is a mix of rustic cool and boutique luxury – think jewel-toned furnishings, a huge oak bed to flop in and a chilled bottle of Moët awaiting your arrival. But the true magic happens at night, when you can soak under the stars in an outdoor candlelit bath for two – you'll love the organic, poppy-scented bath crystals. The instinct to just go with the flow here means cosying up by the fire in winter, or paddling in the stream when it's sunny. If you want to emerge from hibernation, the nearby town of Frome has a vibrant art and music scene and the local Roth Bar & Grill is a must. A favourite dish? The marinated steak salad with Portobello mushrooms.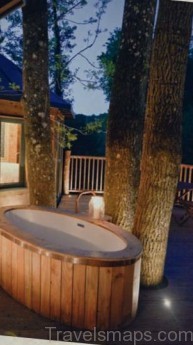 RETRO-MOON MOMENT
Don't assume National Trust properties are just for OAPs. The rolling gardens of nearby Stourhead are vast enough to find your own private patch of grass away from the hordes, yet in handy reach of the ice-cream cart. We enjoyed a picnic and a bottle of rosé on the banks of the lake, watching the swans drift by. BOOK IT From £250 per night for a minimum two-night stay; canopyandstars.co.uk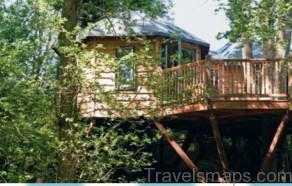 The Ferryman's, Elmley Nature Reserve, Kent
AS THE ONLY NATIONAL NATURE RESERVE IN ENGLAND
where you can stay the night, Elmley is a retreat for couples who like seclusion with a side of wildlife (we were whooping with delight at kestrels, rabbits and baby coots before we even parked the car). Its newest addition, The Ferryman's (built in April – you can still smell the new wood), is a bijou bolthole on wheels, for a camping-adventure vibe with 'moon-worthy comforts. There's a gas hob, a hot shower – plus one outside for brave brides! – a fire pit for toasting marshmallows and a cool box for fizz, plus optional supper hampers and breakfast (the chunky, locally sourced bacon sandwiches will keep you going all day). But the real 'OMG' factors here are the quiet – all you'll hear is birdsong – and the vista: open up the floor-to-ceiling windows and there's nothing between you and the horizon but fields and sky. At dusk, as young hares come out to play and barn owls swoop by, it's like your very own British wildlife safari.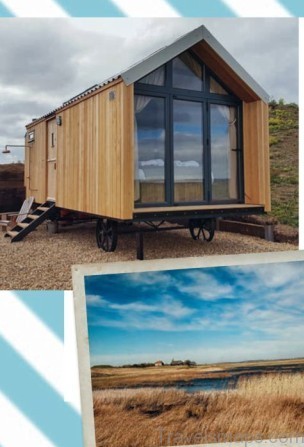 RETRO-MOON MOMENT
An hour's drive away is the seaside town of Margate and the nostalgic-yet-hip Dreamland, a newly restored Victorian amusement park. And when we say restored, we really mean it; £25 million has just been spent on bringing it into the noughties. Hop on trad rides such as the Waltzer and Dodgems, grab cocktails and candyfloss, and hit the Roller Room and Diner to dust off your skate skills (or polish off a burger!). dreamland.co.uk BOOK IT From £120 per night, based on two sharing (minimum two-night stay), on a room-only basis, canopyandstars.co.uk
Maybe You Like Them Too