Two contrary phenomena hold true in Vienna:
– The restaurants and coffeehouses with illustrated, laminated menus are generally-speaking a main attraction for mass tourism and therefore offer food and other services on an according level.
– Some restaurants in Vienna are so unique that they cannot be appraised properly with just toques or stars. A big part of their allure is their blend of hedonism and cultural history.
Let's concentrate on the latter phenomena.
When were you last in a restaurant that was first mentioned in documents fifty years before the discovery of America and has been in the same place ever since? Or in the one where Ludwig van Beethoven regularly ordered his indispensable dose of red wine and coffee? This restaurant is much younger than the one mentioned first, but is nonetheless still over 400 years old.
In Vienna everyone knows where Empress Elisabeth ordered her favorite dessert. It is a place where guests are still waited on in the same manner as during her time. So it is not just an empty phrase that for over 200 years now every guest is spoken to and treated like a king or a queen.
Ultimately we need not focus only on restaurants steeped in history like the ones Mozart, Strauss, Beethoven, Empress Elisabeth and Emperor Franz Joseph or Mark Twain frequented with pleasure. In Vienna, today's gourmets do not necessarily need to eat in restaurants that are centuries old in order to experience how extraordinary Vienna's cuisine can be. In fifty years one restaurant managed to achieve what the others had hundreds of years to do. But even their tradition is not put into question.
UNIQUE RESTAURANTS, COFFEEHOUSES AND CAKE SHOPS IN VIENNA – WHERE MOZART ATE, BEETHOVEN WINE AND HITLER COFFEE DRANK Photo Gallery
Griechenbeisl
The first mention of the Griechenbeisl is in a document from 1447. From around 1500 the present Griechenbeisl was called The Yellow Eagle . Over the years the building appears in chronicles as an inn with the names Red Roof , Golden Angel and Reichenberger Beisl . In the mid-17th century Greek and Levantine merchants settled near the meat market and the area became to be known as the Greek Quarter. Thus the inn got the name it carries today, which means Greek Tavern.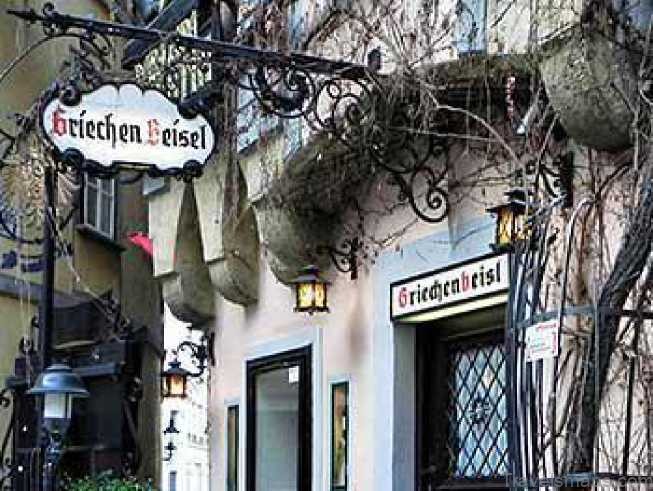 Griechenbeisl
Some of the most famous guests include Wolfgang Amadeus Mozart, Ludwig van Beethoven, Franz Schubert, Richard Wagner, Johann Strauss, Johannes Brahms and Mark Twain.
Griechenbeisl
Address: Fleischmarkt 11, Vienna
Public transport: Underground: U1, U4 Schwedenplatz
Opening hours : daily 11 am – 12.30 am
Kitchen hours: daily 11 am – 11.30 pm
Closed: December 24
Zum Schwarzen Kameel
In 1618 Johann Baptist Cameel bought the building that already then was steeped in tradition and opened a shop for spices. In reference to his last name he gave the store the name that it still carries today – The Black Camel.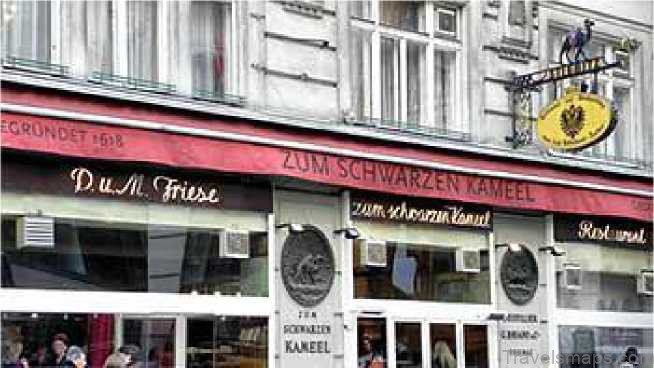 Zum Schwarzen Kameel
Ludwig van Beethoven regularly drank red wine at the Kameel . For eight years he lived in the Pasqualati-Haus on the Molkerbastei, very near to the restaurant.
Zum Schwarzen Kameel
Address: Bognergasse 5, Vienna
Public transport: Underground U2 Schottentor
Opening hours
Daily 8.30 am – 12 pm
Kitchen hours: daily 12 am – 02 pm and 08 pm -10.30 pm
Closed: Sunday and public holidays
Plachutta
There are probably only a few things in the world that the directors Woody Allen, George Lucas and Wim Wenders, the actors Bette Midler and John Malkovich, or the singers Tom Jones and Placido Domingo agree on, but one of them is the Tafelspitz that is served at the restaurant Plachutta. This boiled beef dish is still prepared the same way that Emperor Franz Joseph I had invented it.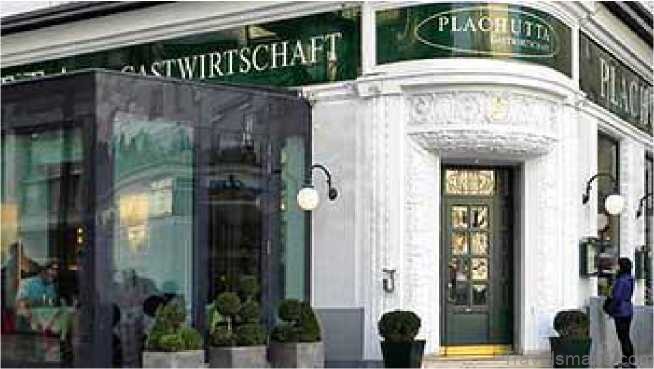 Plachutta
Plachutta
Address: Wollzeile 38, Vienna
Public transport: Underground U3 Stubentor
Opening hours
Daily 11.30 am – 12 pm
Kitchen hours: daily 11.30 am – 11.15 pm
Cafe Sperl
Cafe Sperl is a traditional Wiener Kaffeehaus or Viennese coffeehouse. It is on the Austrian Register of Historic Places and since 2011 the part of the UNESCO Intangible Cultural Heritage – the "Viennese Coffeehouse Culture".
With parquet floors, Thonet chairs, marble tables and crystal chandeliers, the interior design of this coffeehouse is manifestly reminiscent of Vienna's elegant RingstraBen-Cafes. Before the World War I, this was the preferred coffeehouse of Gustav Klimt, Joseph Hoffmann, Koloman Moser, Joseph Maria Olbrich and most likely jung Adolf Hitler.
Not without reason, Cafe Sperl is recognized as the Viennese coffeehouse in many movies. Like for example in the romantic love story Before Sunrise (1995) or in the more recent historical drama about the relationship between Carl Jung and Sigmund Freud – A Dangerous Method (2011).
Cafe Sperl
Address: Gumpendorfer StraBe 11, Vienna
Public transport: Underground U2 MuseumsQuartier
Opening hours
Mon – Sat 07 am – 11 pm
Sun 11 am – 08 pm
Demel
The k.u.k. Hofzuckerbackerei Demel, the Imperial and Royal Court Confectionery Bakery, is located at Kohlmarkt 14, right before the Michaelerplatz.
This bakery is where Empress Elisabeth ordered sweets to accompany her morning coffee, for court festivities, imperial birthdays and the annual Kaiserball (Imperial Ball). Her favorite dessert was a sorbet made out of violet blossom extract, spun sugar and a few drops of champagne. The violet sorbet is still served at Demel today. Emperor Franz Joseph I on the other hand only ever wanted to eat the carnival doughnuts from Demel.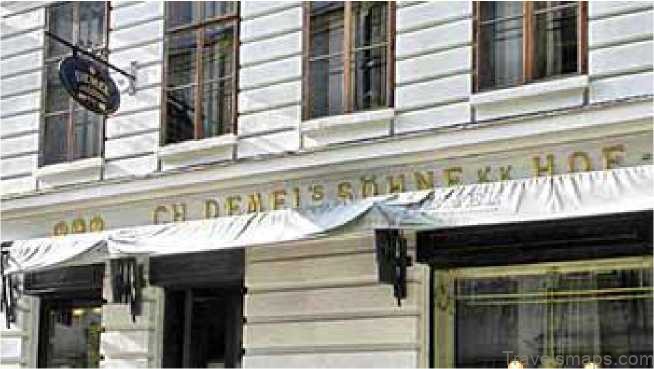 The Royal Court Confectionery Bakery Demel
Back in the day the waitresses were recruited from convent schools and called Demelinerinnen . The Demelinerinnen have always and still today address the guests with the impersonal construction: "Has the lady already made a selection?" That was the way, during the time of the monarchy, one addressed aristocrats without being too personal and offending them.
Demel
Address: Kohlmarkt 14, Vienna
Public transport: Underground U3 Herrengasse
Opening hours
Daily 09 am – 09 pm
Sacher
As long as you are in Vienna and want to try the Original Sacher-Torte there is no better place for it than in the Cafe Sacher in the Hotel Sacher. The Original Sacher-Torte that is served there is handmade in the in-house Sacher patisserie. In one of the finest coffeehouses in Vienna they serve a variety of coffee specialties that wonderfully complement the Sacher-Torte.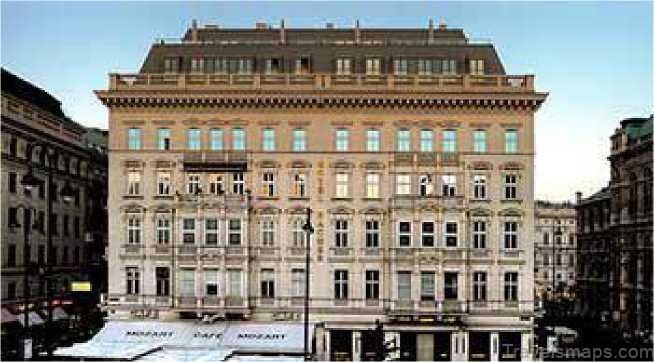 Hotel Sacher
A man who is considerably more famous than many of the prominent stars that have been guests at the Cafe Sacher, died in the house that once stood where the Hotel Sacher stands today. On July 28, 1741 the Venetian composer Antonio Vivaldi died here.
Cafe Sacher
Address: PhilharmonikerstraBe 4, Vienna
Public transport: Underground: U1, U2, U4 Karlsplatz
Opening hours
Daily 08 am – 12 pm
Kitchen hours: until 11.30 pm