'ANYONE CAN CUDDLE, BUT ONLY THE WELSH CAN CWTCH'
so says the doormat of this hut in Monmouthshire. If you don't know whether you can cwtch yet (that's Welsh for a superior sort of snuggle, FYI), you're going to get plenty of practice in this pocket-sized renovated shepherd's hut. With no wi-fi, no phone reception, and certainly no one else in sight aside from the neighbouring ducks – it's just you two cwtched by the wood burner under Welsh woollen blankets, with nostalgic board games. (The loser's forfeit? Fetch more logs from the shed!) The most compact of cabins, The Cwtch gives Ikea a run for its money when it comes to Jenga-like storage solutions.
The Cwtch Hut, Brecon Beacons, Wales Photo Gallery
While one of you showers, you'll still be able to sous-chef for the other, who's rustling up breakfast on the retro two-ring stove. After brushing your teeth in the tapless ceramic basin, put your trainers on and head to nearby Raglan Castle, former home of King Henry VII; it's the kind of Gothic romantic ruin Lord Byron longed for. Don't leave without ascending its most vertiginous tower and taking in 360º views – and picking up a bottle of locally distilled gin. On the way home, stop off in Usk and refuel on the award-winning faggots with mushy peas at family-run pub the Nags Head. Tip: leave their tempting wine list on the table and order a pint of Welsh pale ale instead.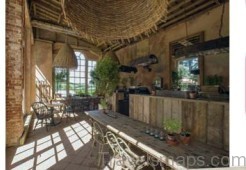 RETRO-MOON MOMENT
Come dusk, light the hut's fire pit, pour a glass of red and toast marshmallows in the flames. In high summer it won't be fully dark until about 10 o'clock, but light the outdoor candles and switch on the twinkling fairylights which trim the hut's exterior like a Christmas tree for a setting so romantic, you'll want to be proposed to all over again. BOOK IT Three nights start from £317, sugarandloaf.com.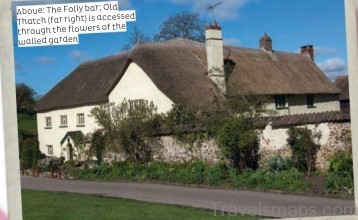 Old Thatch Cottage, The PIG at Combe, Honiton, Devon
THE BEST THING ABOUT THE THREE BRAND-NEW CURLDITCH COTTAGES?
They're owned and managed by the latest hotel opening from PIG, a collection of low-fuss, high-chic country-house hotels. Pleasingly, though, the cottages aren't dominated by the main property, so you can pretend you're in your own hamlet (they're down a private track off the driveway to the manor house, a 10-minute stroll from the hotel and its bar, The Folly). Each overlooks something terribly British: Chicken Run has views of the, yep, you guessed it, chicken run, plus a pretty orchard, Stream Cottage is next to the River Gitt, and Old Thatch (where Brides stayed) is set within the original walled garden. It's the interior design of this particular cottage that makes it so retro-moon-worthy: vintage Persian rugs grace the flagstone floors, mahogany coffee tables hold huge books and Willow Pattern porcelain sits atop the mantelpiece. Picture yourself here with a G&T and 'Piggy Bits' (we love the venison and pork sausage roll) after a day at the beach (just eight miles away) or Seaton Wetlands, 4km of trails through windswept marshlands. And, unlike the other two cottages, in here you'll find that quintessential English staple, an AGA. It's like living your 'we've-made-it- and-moved-to-the-country' fantasy for real.

RETRO-MOON MOMENT
Why not add a fishing experience to your stay? Paddle in the River Otter for limestone trout; the hotel will cook anything you catch (or you could just whack it on that AGA of yours…). March-September, £30 per rod per day. BOOK IT From £395 per night, thepighotel.com.
LET BRIDES TREAT YOU TO THE HONEYMOON OF YOUR DREAMS
With seven amazing nights, half board, at the gorgeous five-star Danai Beach Resort & Villas in Halkidiki, Greece. The lucky winners will enjoy the Honeymoon Executive Pool Suite; designed in cool marble, it's got an abundance of candles and fresh flowers to create the perfect romantic atmosphere. Imagine strolling out onto your own private terrace and taking a dip in your infinity pool before retiring to your daybed to drink in those stunning Aegean Sea views. If you can drag yourself away from your spacious living room and personal Jacuzzi, you can flop onto the resort's pristine private beach and get down to the serious business of relaxation (you can hire cabanas for an extra touch of privacy). Another must-do is to explore the 40,000 m2 of lush grounds – there's even a botanical garden filled with heavenly aromatic herbs such as lavender, chamomile and rosemary. If all that has worked up an appetite, then you'll be spoilt for choice here. The winners will enjoy an exclusive and private fine-dining experience in the cosily rustic wine cellar, which is built into the side of the mountain.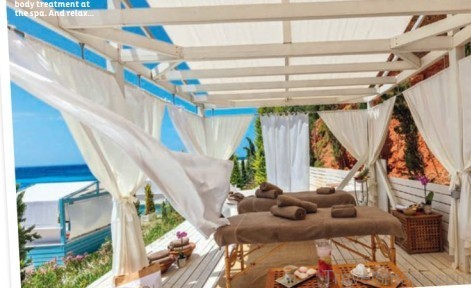 You'll feast on dishes such as lobster with sweet potato ravioli or grouper with lemon hollandaise, courtesy of the resort's Andromeda Restaurant. You should also try the renowned Squirrel restaurant go for the tasting menu to sample the showstopping food on offer, and the wine list has even been awarded the best in Greece.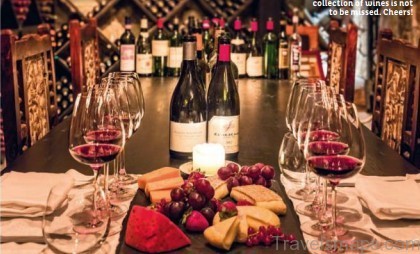 The resort prides itself on its superb food and focuses on organic ingredients, many of which come from the on-site herb and vegetable gardens. Finally, why not unwind with a fresh-fruit cocktail at the Philosophy Seaside Bar – aptly named to reflect that Halkidiki was the birthplace of the great Aristotle – overlooking that fabulous beach and watch the sky turn from the deepest blue to inky black? If you still have any remnants of post-wedmin stress, head straight for the amazing spa and indulge in wonderful holistic therapies. As part of this incredible prize, you will both be treated to a Trilogy Body Treatment, a glorious two hours of steaming body exfoliation and a specially prepared bath with honey and milk or olive oil and sea salt, finished off with a pampering body mask. Utter bliss. Enter now to win this prize of a lifetime! For more information about the resort, visit danairesort.com.