Bordering Tailand, Indonesia, Singapore and Brunei, Malaysia is one of the most exciting choices for a honeymoon in 2014. As well as being a biodiversity hotspot withmore endemic species of wildlife than lots of other countries put together, it is also a nation of wide-smiling happy faces. For something to really write home about Tanjong Jara Resort, on the East Coast of Malaysia, is a honeymoon destination like no other, and, unlike many other Asian destinations, it experiences its best weatherfrom April – October!Located on a secluded stretch of pristine sand, just over an hour's drive from Kuala Terengganu, the hotel is designed to refect the elegance of 17th-century Malay palacesA luxurious sanctuary set in lush natural surroundings, couples can enjoy lashings ofMalaysian warmth and hospitality and plenty of aromatic favours in the fabulous restaurants within the resort and nearby.
Lusting After an Eastern Adventure For Your Honeymoon? to Experience The Very Best That Malaysia Has to Offer Let Turquoise be Your Guide Photo Gallery
Rooms are furnished in local timber and traditional fabrics – our favourites are the single storey Anjung rooms, which are as romantic as it gets with views overlooking the South China Sea. Nothing is too much efort for the staf, for example a private dinner on the beach under the stars orchampagne and canapés on your stunning private terrace.For further indulgence, there's also the hotel's award-winning Spa Village to consider, plus two swimming pools, tennis courts and cookery classes should you want to brush up on your dinner party skills.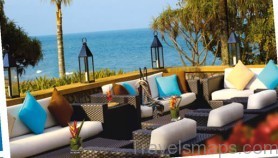 Beyond the gates of the hotel, you can bicycle to nearby fshing villages, trek through dense jungle, sign up for a river cruise or explore reefs by diving or snorkelling of Tenggol Island (45mins away by speedboat) – it's one of Asia's best kept secrets. Tanjong Jara Resort can easily be combined with an
exciting stopover in Kuala Lumpur, Malaysia's capital city.Honeymoon offerBrides readers can enjoy seVen nights for the price of siX and 10% early Bird discount at tanjong jara resort from £1,195 per person including flights, transfers and accommodation in a BumBung room. plus, honeymooners will also receiVe a complimentary dinner for two at nelayan restaurant.