As science reveals that two weeks of inactivity is bad for your health, here's how to take a break without taking time out from exercise.
You've been hittingthe gym hard tohone a bikini bodyand feel you deservean exercise-freeholiday. Bad news – two weeksspent lazing around on the beachcould seriously harm your health.That's according to the latestresearch from the University ofLiverpool, which reports that just 14days of sedentary behaviour leadsto significant reductions in fitness,not to mention an increased risk ofchronic ailments such as type 2diabetes and heart disease. In fact,young 20-somethings saw theirwaistline expand by almost half aninch after cutting activity by morethan 80 per cent for a fortnight.Uh-oh! But while your holiday plansmay include more piña coladasthan burpees, squeezing in a sweatsession needn't encroach on yourtanning time. Here are the bestactivities to do when you're severalthousand miles away from the gym.
STAY HEALTHY ON HOLIDAY Photo Gallery
1.WATERSPORTS
BEST FOR… BEACH BREAKS
Heading to the seaside? Beachbreaks boast a plethora of get-fitopportunities. Our pick? Shape up onthe sea. Whatever your fitness goals,watersports work the body in plenty ofways. Sea kayaking is a great upper-body workout that burns around 325calories per hour. The increasinglypopular paddle boarding is great for corestrength and scorches an impressive 410calories per hour. Surfing strengthensyour back, shoulders and legs, whileswimming will boost your cardiovascularfitness. The options are endless. 'I tookup sailing last summer and had somuch fun and laughed a lot,' says JessSchuring, owner of Heartcore fitnessstudios (heartcore.co.uk). 'It was theperfect balance of being active on (oftenin) the water, while exploring somethingnew.' Kudos to that.
PACK THIS
Look like a pro on the water in thisneoprene GlideSoul Spring Suit(£95; uk.glidesoul.com).
2.TRAIL FITNESS
BEST FOR… RURAL HIDEAWAYS
Anyone who has children knows that keeping fit on holidaycan be a challenge but, if you're lucky enough to have access tosome great countryside, the options are endless. For a uniqueway to enjoy the outdoors, consider hiring bicycles and riding thetrails. Alternatively, buy a local walking book and head off on ahike. 'Hiking is low-intensity and low-impact cardio,' says TanyaNiedzwiecki, body transformation coach at Tanya N Fitness. 'Youcan find hikes that last 30 minutes, days or even weeks. After alonger hike that involves uphills and downhills, you can expectto feel a burn in your glutes, quads and calves. It's a greatleg workout!'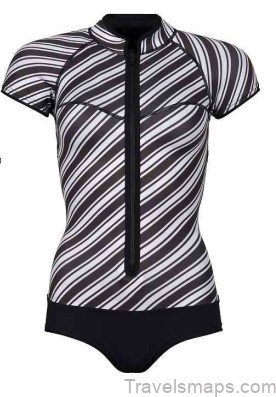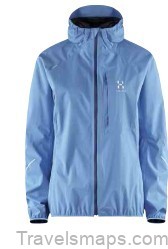 PACK THIS
Prepare for all weather in Haglöfs' lightweight and packableL.I.M Proof Jacket (£130; haglofs.com).
3.BODYWEIGHTCIRCUITS
BEST FOR…CITY ESCAPES
If your hotel doesn't boast a gymor pool, you can squeeze in agreat workout using yourbodyweight. 'Circuit training isa simple way to get an effectiveworkout while on holiday,' saysMatt Crane, head coach atbeelitebodydesign.com. 'Workout first thing and you'll have ahuge buzz for the rest of the day,plus the time to relax and workon that tan!' Crane recommendschoosing four to 10 exercises suchas press-ups, lunges or squatthrusts, working for 20 secondsand taking 10 seconds' restbetween moves. 'Use the hotelfurniture as equipment,' addsCarly Newson, owner of FlexPTstudio (flexpt.co.uk). 'Triceps dipsoff a chair, box jumps on and off asofa, Bulgarian split squats off thebed – these are all good exercisesfor burning extra calories!'Niedzwiecki also recommendstrying the workouts the city orcountry is famous for: 'Soul Cyclein LA, F45 in Australia or yoga inIndia – they do it best.'
PACK THIS
Attach a TRX Home Gym suspension trainer over your hotel door for the ultimate bodyweight workout (£149; trxtraining.co.uk).
4.HILL TRAINING
BEST FOR…MOUNTAIN RETREATS
If you're hiding away in the hills, takeadvantage of the landscape and do someincline training. Hill hiking, riding andrunning are crazy cardio boosters that willimprove your lower-body strength and lungpower. Go for an all-day outing with fellowholidaymakers, hiking to a high lake orbiking to a viewpoint, or simply find a steepuphill section near your lodge and runrepeated efforts before everyone elsewakes up for the day. 'There are somany different activities on a mountainbreak that will keep you active,' saysNewson. 'Think zip lining, downhillmountain biking and climbing.'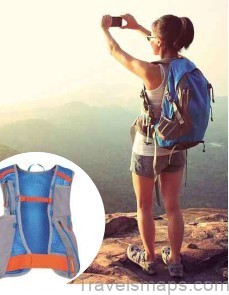 PACK THIS
The compact Montane VIA Razor 15backpack is perfect for short hikes andtrail running (£120; montane.co.uk).
5.DAILY ACTIVITY
BEST FOR… CONTINENTAL CRUISES
News flash – exercise doesn't have to fit into a 60-minute slot. You can keep your fitnesslevels high by staying active throughout the day. One of the great luxuries about being on holiday ishaving more time to yourself, so spend all day exploring the sights by foot or hire a bike and pedalaround the local town. 'If you're on a cruise, it's easier to stay fit than you think – and you don'tneed the stuffy gym!' says Newson. 'Getoff at every port and go for a walk. You'llincrease your number of steps, boostyour general activity and get to see thesights!' Your fitness goal? Aim to walkfor at least an hour at every port.
PACK THIS
Explore the sights on foot wearing the grippy and responsive new Merrell Bare Access Flex trainer (£80;merrell.com/uk).