Abu Camp 15-minute Cessna light from Vumbura Plains Camp
Now this is a real bucket-list ticker. Sleeping next to a pod of hippos? Tick. Surprise picnic in the bush? Tick. Seeing a remote African village? Tick. And (wait for it) the chance to walk with a semi-wild herd of elephants. Mega tick. We're not talking a simple stroll here – we mean a full-on two hour trek through the bush. Abu is so unique, it literally takes your breath away. Not only is the design of the actual camp slicker than some of the world's coolest boutique hotels (imagine Soho House sexy: smooth, polished loors, artfully battered chairs and sleek, industrial-style loor lamps) but the whole concept is built around housing rescued elephants.
Abu Camp 15-minute Cessna light from Vumbura Plains Camp Photo Gallery
Whether rescued from captivity (53-year-old Cathy came from the circus) or culling operations in Kenya – or, more unusual situations. Such as adorable baby elephant Paseka, who made her own way here ater losing her family. Mind-blowing food (have the chilli and potato hash), slick service and awesome game drives come as standard, but it's all about hanging with the herd. And don't worry: rest assured that everything is eco-concious and has a much lower-than- low impact on the environment (and animals).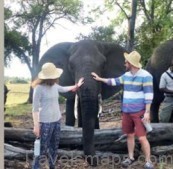 Request Lettie as your guide if you can; he's fun and super-knowledgeable – and he's got great scare-you- silly stories you'll both love.
HONEYMOON HIGHLIGHT
Expect aternoon tea to be a moveable afair – the mahouts (elephant trainers) and the camp staf go wherever the Abu herd is to set up sweet iced tea, and sticky cakes to watch them play out in the wild.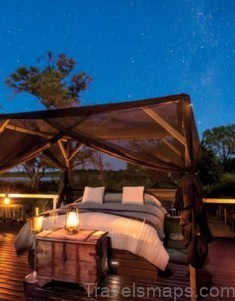 You may even get lucky and see the six rescued elephants interacting with another totally wild herd… before the mahouts whistle for them to come back in, and they lope happily towards you. Owilderness-safaris.com/ camps/abu-camp.