Browse a special selection of artisanal fashion and lifestyle accessories at the unique apartmentstyle showroom of home-grown luxury bag designer Ling Wu feels like HOME.
With online shopping is becoming a mainstay in consumer culture, it takes a brave entrepreneur to open a brick-and-mortar store. But Goh Ling Ling, the creator of eponymous luxury handbag label, LING WU, is not your typical retailer. Having gained recognition by those in the know for her ultra-soft exotic skin handbags, the designer – whose creations are also sold on consignment at major department stores – took a bold leap to open a showroom nestled in leafy Chip Bee Gardens.
Artisanal Fashion and Lifestyle Accessories Photo Gallery
"I opened Le Salon because I realised that my customers wanted a more personal experience when it comes to shopping," the designer explains. Tucked away on the second floor of a walk-up apartment, Le Salon is a living-inspired creative space that houses not only the LING WU label but other under-the-radar brands from independent makers, such as home fragrance brand A Dose of SomethingGood, fine jewellery by Alexandra Alberta, vintage accessories from Dark Horse Vintage, minimalist jewellery from Pyar and luxury cashmere art scarves from Trebene.
Taking the apartment theme to heart, wares are displayed on shelves and tabletops. Customers are invited to sink into comfy sofas, sip a hot beverage while browsing the curated selection of artisanal accessories. Ling is a self-confessed vintage lover and has amassed a handful of vintage furniture procured throughout the years. In her 1,500-square foot showroom, you will find a 1960s Aage Christiansen leather sofa sharing the living space with a pre-loved ghost coffee table topped with art books, hooped shells and conches collected by Ling and her children.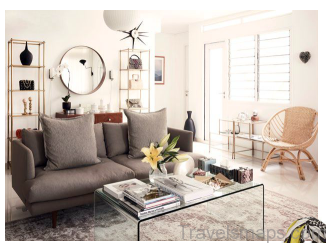 Nearby a vintage starburst clock bought for $5 at a Melbourne flea market sits alongside an Art Deco console table displaying vessels of scented candles and fragranced art objects from A Dose of Something Good. Despite its residential feel, the showroom is open to walk-in visitorsfrom Mondays to Fridays between 10am and 6pm.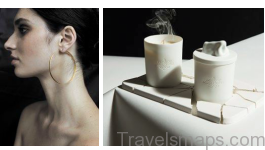 Appointments can alsobe arranged for Saturdays. We won't blame you if you feel likestaying here for hours, whether it is to browse Ling's curated selection of artisanal accessories, have a chat with the friendly designer or to simply soak up the tranquil ambience.INSIDE STORY Le Salon is a treasure trove of vintage gems. Take your time to browse through a selection pre-loved Tiffany & Co. accessories alongside ultra-soft cashmere scarves. If that girl in the large-format photograph hanging over the vintage dining set looks familiar, it's because the print is a Helmut Newton photograph of a young Jodie Foster.