Our Surprise Garden Party
Tiffany Rushton, 32, married Paul Harrison, 44, at home in Caversham on 1st July 2019. She says:
When we first boug ht our dream house together, we both – unbeknownst to each other – imagined having a wedding in its garden. It wasn't until we began talking about getting married that we discovered we'd had exactly the same thought.
Garden Party Wedding Details Photo Gallery
Our big day was a complete surprise for nearly all of our guests. We sent invites for a 'garden party' – with a semi-formal dress code. Everyone was so excited when they arrived and we revealed the truth!
We turned the place into a romantic Italian-esque courtyard, complete with olive and bay trees, and arches and walls made of real flowers. Inside each marquee we had herbs, such as thyme, marjoram, mint and rosemary, and also lit several Pomegranate Noir scented candles by Jo Malone. The whole space smelt wonderful.
In total, I had 14 bridesmaids: nine adults, four children and my 83-year-old grandmother! Everyone wore their own outfits, apart from the children, who wore tea dresses. They all looked so pretty together and I loved that they each got to show off their own style on the day.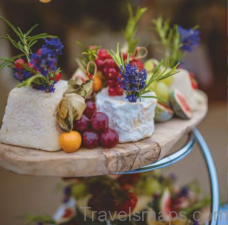 I nstead of favours, we had a present tree, hung with Oliver Bonas gift sets of lip balms and bath bombs, bow ties, cufflinks, pearl earrings and bracelets, lottery tickets, floral headbands and more! It all went down an absolute treat with our guests. My top tip: Even marrying at home, the little extras such as confetti, gifts and pamper boxes in the powder room all add up, so make sure you budget for them.