Danish Kurhotel Skodsborg, Spa near Copenhagen, Denmark
This imposing spa hotel sits in a fantastic position between the sea and the woods, yet is just 20 minutes from Copenhagen, making it a superb choice for a rejuvenating long-weekend break. And it has history, too. King Frederik 7th acquired the Skodsborg country estate in 1852 and spent summers here with his wife, Countess Danner, until his death in 1863. The pioneering Dr Carl Ottosen, who had studied health and physiotherapy in the US, then founded a sanitorium here in 1898. His principles for a healthy life: light, air, water, nutrition, exercise and rest live on in the spirit of this hotel. There are 85 recently refurbished bright, modern rooms and suites.
The Best Spa in Denmark Photo Gallery
THE SPA
Designed by top international architecture firm Henning Larsen Architects, the stunning, minimalist spa feels very spacious and full of light. It was awarded Best Luxury Wellness Spa Europe 2016 in The World Luxury Hotel Awards, andboasts 11 treatment rooms and four nail-spa seats. Enjoy a plethora of experiences in the main spa area, including a salt cave to help cleanse the respiratory system; a steam bath; a 'soft' sauna that combines the benefits of a sauna and a steam bath; a rasul; and an infrared treatment area to help eliminate toxins and boost circulation.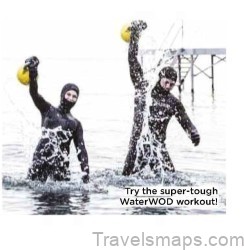 THE TREATMENTS
Massages include the Hydrotherm massage, which involves lying on your back on a warm, water-filled mattress (£106 for 50 minutes); an anti-stress massage (which I tried and was top notch) and a sports massage. Or why not try a Classic Nordic Facial (£94 for 50 mins), which includes deep cleansing, facial massage and a nourishing facial mask; or a BIOEFFECT EYGLO treatment, using Icelandic BIOEFFECT with Epidermal Growth Factor that restores the skin's collagen and elastin (£94 for 50 mins)& Skincare products include Kerstin Florian, iS CLINICAL and BIOEFFECT.
MUST TRY
No trip to this hotel would be complete without trying the amazing SaunaGus experience! Gus master Tina Anderson poured a mixture of water and pure aromatherapy oils on the hot coals of the sauna, then whipped a towel around expertly to help amplify the effects. Just when the air felt too hot to bear after several minutes, she escorted us outside to the private jetty where we had an.