Gwyneth Paltrow
Presidential Suite Paltrow, The Palace Hotel, CaPRi
Tis top-foor, two-bedroom suite has a panoramic view that has to be seen to be believed. With a full 360-degree vista of the Bay of Naples, the Presidential Suite Paltrow – named in the actress's honour afer she stayed here – oozes penthouse luxury. It has a private hanging garden that features not one but two pools and if you lie back on the blissful kingsize in the master bedroom you'll notice the ceiling window, created especially for stargazing.
Presidential Suite Paltrow, The Palace Hotel, Capri Photo Gallery
Why not run a bubble bath in the enormous bathroom or visit the holistic Capri Beauty Farm spa, with 30 doctors, therapists, beauticians and dieticians on hand to treat you. Do head out to explore the Blue Grotto, a dazzlingly azure sea cave and natural wonder, or try the hotel's nearby private beach club, where oversized sunglasses are practically obligatory. Ten, afer working up an appetite with a day of swimming and sunbathing, eat at the hotel's two-Michelin-starred restaurant.
The Jacqueline Kennedy Onassis Suite, Rafes Hotel Le Royal, PHnOm PenH, CambOdiaMrs Kennedy stayed here in 1967 as she travelled through Cambodia to fulfl her lifelong dream of seeing the temples at Angkor Wat – and not only did her hotel name a suite afer her, but a cocktail, too. During her stay, the former US First Lady lef a red lipstick mark on a glass (displayed in the suite, mark and all) and the hotel's Elephant Bar created the Femme Fatale – champagne with crème de fraise sauvage and a dash of cognac – to match its colour.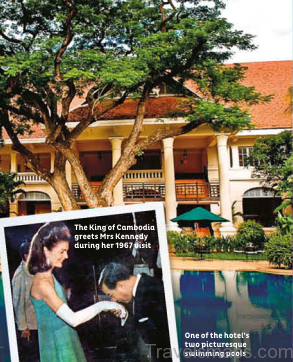 Te hotel itself is all colonial grandeur and elegance, and the staf are renowned for their 'nothing is too much trouble' attitude. Te suite's wooden foors, ceiling fan and four-poster bed add to the '20s feel, and there's a standalone claw-footed bathtub and lovely shower. In case that isn't enough, there's also a daily delivery of tropical fruit and a butler on hand, should you need him. Feast on a huge breakfast at Café Monivong before heading out to see Phnom Penh – Wat Phnom, Te Royal Palace and the Silver Pagoda are simply unmissable, or bargain for Cambodian silk in the Russian market. End your day back at base, sipping a Femme Fatale by the pool – you'll feel like you're in a movie!The ava Gardner Suite, Splendido mare, PORTOfinO, iTaLy Ava Gardner – the ultimate femme fatale and one of the most celebrated beauties in Hollywood – may have once been married to Frank Sinatra, but the world fell in love with her when she starred opposite Humphrey Bogart in 1954's Te Barefoot Contessa.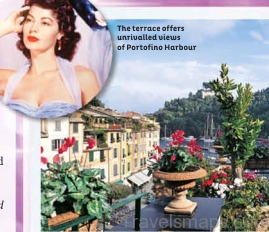 She stayed at the Splendido Mare during flming and adored the place. Her suite stretches across the entire top foor and has amazing views – not just from the magnifcent terrace, but from the bed and sitting room, too – and the large marble bathroom is packed with super-luxurious Bulgari and Penhaligon's products to soak in. Feast on a classic American bufet breakfast before heading into picturesque Portofno – in our view, one of the most romantic locations in the world – or take a day trip to nearby Genoa to see the elegant Piazza De Ferrari and Doge's Palace. If you'd rather just relax in yourroom afer a long day of sightseeing and sunbathing, there's a widescreen plasma HDTV, CD and DVD player and free wi-f to keep you entertained. But back to that 603sq f terrace with its potted lemon trees – nothing matches watching the sun go down from your deck with a glass of bubbly, (almost certainly) like Ava did.