CASTELLO DI CASOLE ITALY
WANT TO INDULGE A LITTLE
Now that the pre-wedding kale-and-quinoa regime has come to an end? Time to relax those dietary rules and step away from the rabbit food, because Regular and Large (no small plates here) are the de rigeur pasta portion options at this hideaway hilltop estate. From tucking in at the gelato bar, to learning how to make pizza and pasta like a pro, or unforgettable dinners in the hotel's Tosca restaurant, with its estate-grown ingredients and never-ending wine list, life here (as you would expect in Tuscany) revolves around feasting. You may want to pedal off the excess calories with a bike ride in the dreamy countryside.
CASTELLO DI CASOLE ITALY WANT TO INDULGE A LITTLE Photo Gallery
The painterly cypress trees, rolling olive groves and pretty vineyards make you feel like the star in a Visconti movie (and, after all, the Castello was the director's home in the '60s). The recently restored hotel, all mellow rust and yellow tones, complete with gym, spa and infinity pool, offers classic suites in the original buildings, or you can opt for modern Italian, eco-friendly rooms in the new additions – each with a luxurious, yet homely, feel.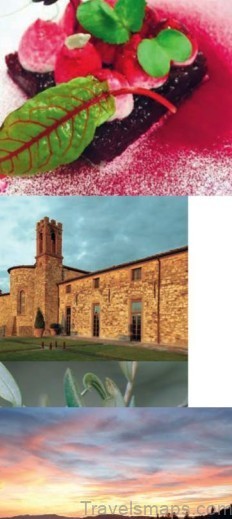 You'll be within easy driving distance of some of the region's most beautiful cities (Florence, Pisa and Siena), so stir up a little Insta-envy by sightseeing in a rented vintage sports car, à la Sophia Loren. OUR KIND OF LUXE Gourmet restaurants can be stuffy and overwhelming, but chef Daniele Sera manages to make formal dining fun at Tosca, with clever combinations and sublime seasonal tasting menus. Thought waxing lyrical about wild boar or porcini mushrooms wasn't your thing? Think again. GO Castello di Casole (castellodicasole.com) offers a five-night honeymoon package, with spa treatments and gourmet picnics, from £515 per night.